Learn how easy it is to Sign Up and Login to Freecycle.org
Freecycling is increasing the life-cycle of things that would still be good for us to use, but you may no longer want or need the item(s). This prevents the unwanted item(s) from being sent to the landfill or getting into trash cans. Freecycle .org is a community of people who donate things they no longer use to allow others to pick these items up for free. These groups of people who join Freecycle.org thus increase the usefulness of things by giving away their items to those who need them. It also helps people eliminate all the clutter they accumulate around their homes. This community has become very large in a short time, though millions of people are still unaware that this organization exists. We have put together this tutorial for people who don't know how to become a member of this fast-growing community. We have posted this tutorial to help you sign up as a member and log in to the Freecycle.org website. Enjoy!

Sign up by choosing a username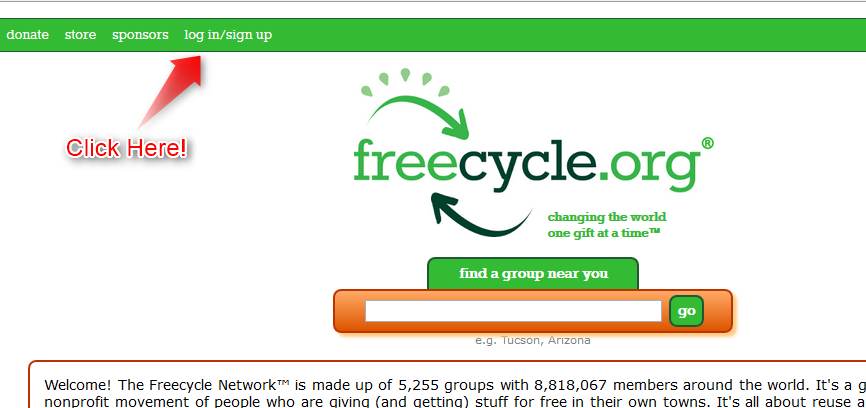 Once you click on the sign-up or login button on the website of Freecycle, you are taken to a new page that is called MyFreecycle. This page has been designed to make it easier for members to Freecycle login. If you are not yet a member, you must go to the signup form to create your account.  To create an account, you have to choose a username that should be unique and has not been earlier by an existing member of Freecycle.org. Give your email address that is active and valid and one that you use frequently. This is necessary to be able to receive messages and emails sent to your ID by other members of the group.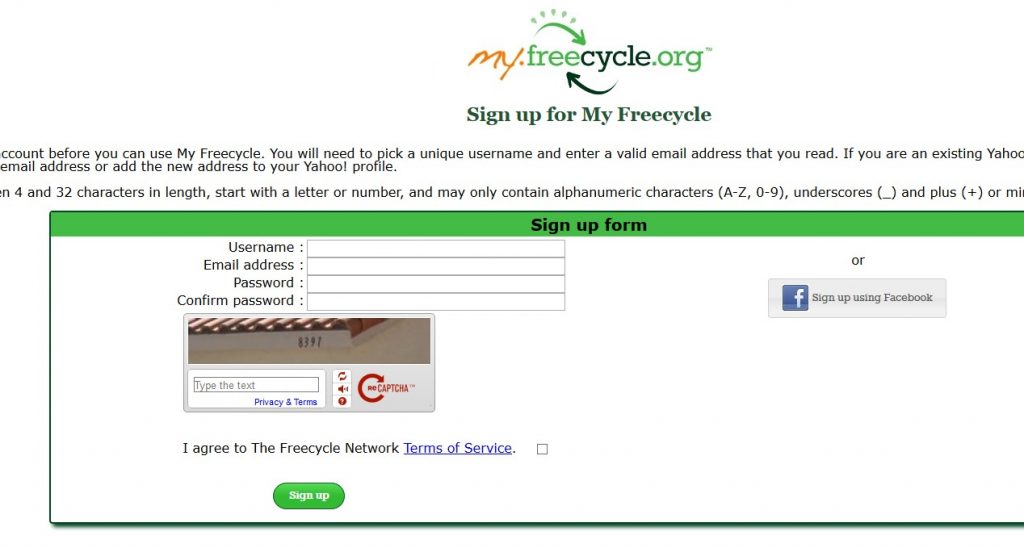 Your chosen username should begin with a letter or a numeral. It can be made using alphabets, numerals, plus and minus signs, and underscore. Any username should be made of at least four characters though you can make a username having up to 32 characters. Choose a username that is easy for you to remember. Once you have entered a password of your choice and confirmed it, you are ready to become a member of Freecycle. 
You can give and also receive stuff when you're a member.
Freecycle login using MyFreecycle is very easy for the members. It allows you to post the items you want to gift to others and browse all the offers made by other group members. Freecycle is a wonderful platform for those ready to give away items they no longer use. However, it can also be used by the members to receive gifts for themselves from other group members. In fact, many not-for-profit organizations are receiving gifts through Freecycle network.
Remember that if you are a new member, your post will first be moderated by the moderators in your group before it is made available to all the members. You will start to get replies from the members once the post has been moderated. You are free to give your item to anyone who is ready to receive it. Do not give it to the first reply you get, as there are always members who would pounce on every offer and say that they will take t. It is better to wait for some time and evaluate all the messages to decide on the person to who you want to give your item.
Locate the Freecycle group in your area to become a member.
If you are serious about contributing to the needy and also getting rid of the clutter that has become unmanageable, all you have to do is to visit the official website of the community. Before you get access to Freecycle login, you need to find your local town or city in this huge community of people. Once you find a group of Freecycle in your own area, join it. You do not become a member of the group by entering your details as every group of this community has a process of verification that can delay your joining. However, the members of your local team of Freecycle will work hard to induct you as a member as soon as possible. 
Post anything that you want to give away provided it does not break the Terms of Service
Once you have been approved as a member, you are free to post items on the website that you are willing to give away to others. You have to make sure that whatever you are donating is legal and does not offend the sensibilities of people of all ages around the world. This means that the item you are giving away should not be related to pornography. It should not be alcoholic or contain any drugs. As soon as your membership has been approved, you are sent a list of the rules of the group via an email. 
Get started and join today and help give something to someone that is looking for an item and also help save the environment by not sending your unwanted items to the dump. A truly WIN WIN situation.