What is Freecycle
Have you ever wondered What is Freecycle? It's an online group based forum board usually setup in your city or town that helps people with an easy way to dispose of unwanted items from toys, clothing to cars and furniture that you may have collected throughout the years. These items are suppose to be still usable and could be used by other people that live nearby in your area. All you have to do is perform a search at Freecycle.org for the word of your City, Town or Zip Code and you should see a Freecycle group located in your area in the search results.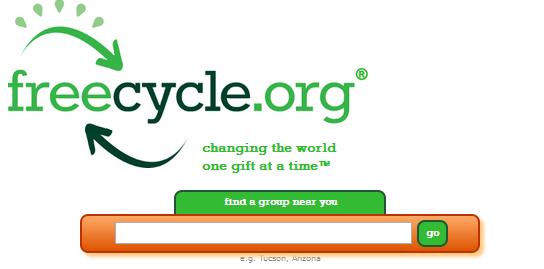 The Freecycling idea was created to help keep unwanted items that still have a viable life left out of the landfills and to help promote a greener environment. The basis of Freecycling is that you are offering your unwanted item to other for FREE with no money exchanging between the two parties. After posting your items to your local Freecycle group board you will get responses to from other Freecyclers that have an interest in your item(s) and from there you can decide who to offer your items to.
Have fun and get out there and start Freecycling.