Decorations and Event Planning
The cost for decorations for any event can add up quickly. A delightful way to decorate that is fun and unique is to make the decorations through the art of upcycling. You are then showing guests who come to that event the value of upcycling and what you can achieve by being more conscious of waste.
Mason Jar Lanterns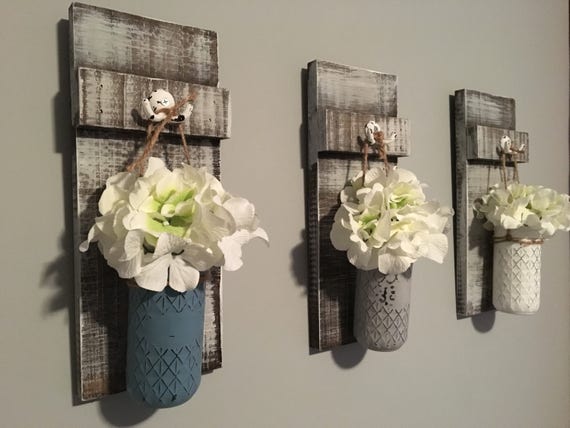 With the use of mason jars, you can create lanterns that give soft lighting and illuminate any event you wish to decorate for. Just place some decorative rocks or gems at the bottom of each Mason jar and then add a tea light candle. You can hang the jars up or display them on the tables. If you have glass paints, all the better because you can add color. In order to add it, add in a couple of drops and swirl the jar around to help the color spread out evenly inside the jar. You can also shake it randomly to help create a nice pattern inside it.
Vintage Vases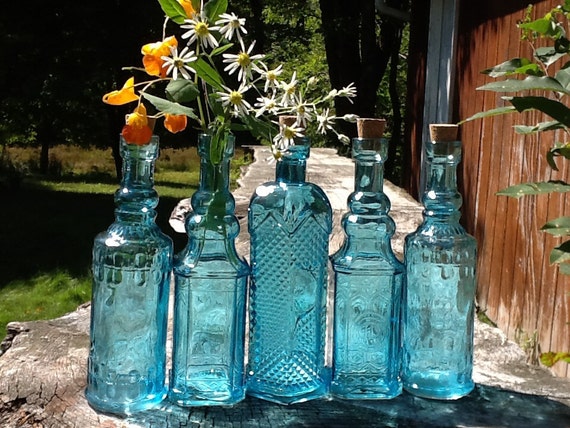 Old bottles can be turned into vintage vases for decorations. They can hold real or fake flowers. They can hold sand and small seashells for a wonderful beach theme event. These bottles may be clear or they may be made out of colored glass. Don't worry if they don't all match in terms of shape, size, or color. It will create an upcycling, creative theme. You can also wrap the bottles in different colored wool to create interesting and colorful bottles. These bottles will look superb if you use vibrant colors. You can then add in real flowers to it which will up its decorative value.
Candle Stands
If you have old candle stands, they can be used for various things at any type of gathering. They can be used to display cards from guests if you would like them to. They can also be used to display dessert items such as cupcakes. This is a simple way to add some elegance to the display of items that you are offering your guests. Be inventive and find ways that these can be incorporated into the decoration, serving a different purpose to their original outdated purpose. These are attractive elements that can be upcycled easily. But remember try not to scrub the pieces to make it nice and shiny. The idea is for it to look upcycled and not too clean and nice. It should not look like you have bought them and not repurposed anything.
Spiral Swirls
If you have some old pieces of metal around, you can use them to make some colorful spirals and swirls for any event. They work best for outdoor events. Cut the metal carefully into long strips. Use some snipping tools to bend it into spirals and wire to hang them. Be sure not to cut yourself on any sharp edges. Paint them different colors to match your theme. Display them with the colors alternating as you hang them. When the wind blows slightly, it will swirl the spirals, adding even more to their ability to wow your guests.
Remember when working with metal, you need to protect your hands since cut metal can really hurt you if you cut yourself. Remember also that you have a responsibility to your guests. Hang them high enough so that no one touches them and cuts him or herself. Orange Peel Candles A summer time BBQ can be fun, but it can also be a time when there are mosquitoes. Avoid the harsh bug spray and go with orange peel candles. The smell will naturally keep the bugs away. You can use the oranges to create a fruit salad or other items for the guests to enjoy. Cut the oranges in half, and remove the insides so that you can have two candles from each whole orange. Place a tea light candle in the center and put them outside on display. They will give off a very nice fragrance as you enjoy your gathering but more than that, they will keep the bugs at bay. They will also look beautiful. You can cut out a diamond shape on the sides to make it look nice and your party decoration will be taken care of.
Bike Wheel Photo Display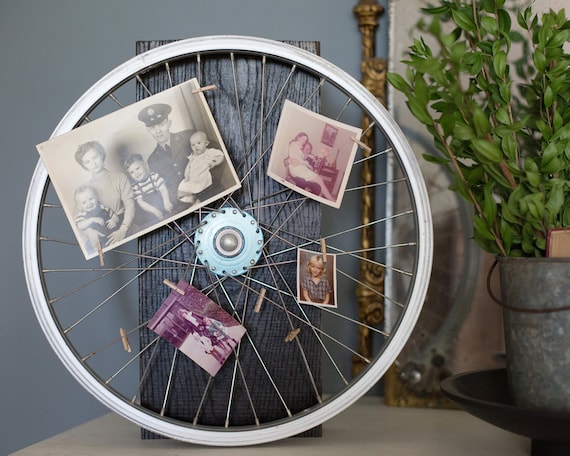 If you are hosting a birthday, anniversary, or retirement party, photos of the people involved are always a nice touch. If you have some old bike wheels, you may be unsure what you will ever do with them. Here is a great idea that is going to be a huge hit! Take the tire off so that you are only working with the rim. Repair any broken or missing spokes. You may have to borrow parts from one bike wheel to create the designs for the others to be complete. Next, you can take small clips and attach photos to the spokes.
You can do a progression from one point in time to the next with such a display. This is definitely an idea that is going to get plenty of attention from those that attend your event. These can be placed on an outside wall so that guests can take their time and enjoy the photos during the course of the event. When the event is finished, don't forget to take down the photos so that you can use them for future events, and store the bike wheels because you may need them again.